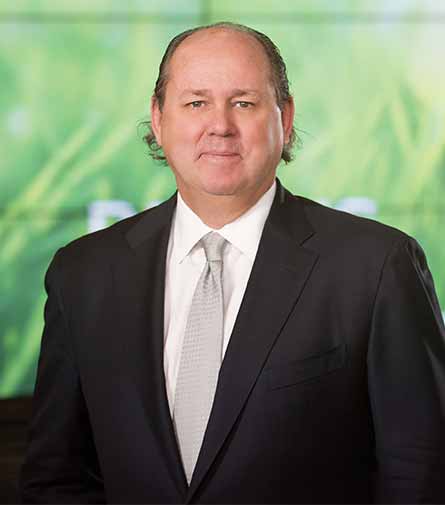 Randall Stuewe, CEO
The world is facing the adverse effects of climate change, destruction of the environment and diminishing natural resources. Social and economic inequity remains an issue for countries and societies. As such, it is imperative to emphasize sustainable development. Environmentalist's advocate that the need and importance of sustainable development initiatives is to balance everyone's economic, environmental, and social needs while improving the wellbeing of today's and future generations. The initiatives in this regard encourage the use and careful management of resources and decrease the dependency on non-renewable ones. However, to achieve the feat in the wake of increased demand for food, energy, and other commodities as a result of the ever-growing human population, is no easy task. For many organizations who use traditional resources to provide products around the world, the need of the hour is to strike a harmony concerning the consumption of natural resources.
Committed to create and maintain that precarious balance is Darling Ingredients. With over 200 processing plants on five continents and sales and distribution offices throughout the world, Darling Ingredients is a global leader in creating sustainable food, feed and fuel ingredients from edible and inedible bio-nutrients to help provide for the needs of a growing global population. "Our future and that of our children depends on our ability to find economically and ecologically viable ways to provide for a growing population's basic needs. We contribute to that goal by creating sustainable food, feed and fuel ingredient solutions," asserts Randall Stuewe, CEO of Darling Ingredients.
TURNING CHALLENGES INTO OPPORTUNITIES
Animal Feed manufacturers ought to devise products that improve animal health, farm sustainability, and reduce carbon footprint to ultimately enhance feed efficiency and production efficiency while cutting back on the use of antibiotics. To this end, Darling Ingredients offers high-quality, sustainable ingredients of animal origin for a wide range of feed applications. The ingredients they offer to the pig and poultry markets are safe and natural. They process raw materials of animal origin into valuable and essential fats, proteins, minerals and speciality ingredients for applications in pig feed. For piglets, they provide functional proteins to help to improve their gut health.
For poultry feeds they offer highly digestible proteins, such as haemoglobin powder and special products like plasma, that can improve the gut health of newly hatched broilers. By repurposing organic bio-nutrients residuals, they have grown into one of the world's leading suppliers of natural, sustainable feed ingredients.

"Our future and that of our children depends on our ability to find economically and ecologically viable ways to provide for a growing population's basic needs"

As an ingredien's specialist with in-depth expertise and access to many nutrient-rich natural materials, Darling Ingredients have also built a strong position in several niche ingredient markets such as the food and pharmaceuticals. Scientific progress and innovation in the pharmaceutical industry affect people's views on nutrition and their response to physical illnesses and life expectancy. This progress, in combination with increasing health-consciousness among consumers, opens the door to many new opportunities to improve the health and wellbeing of people of all ages. Darling ingredients is at the forefront of research and development and are world leaders in the production and marketing of gelatin and collagen peptides to the pharmaceutical industry. Their collagen peptides have many health benefits in nutraceutical and nutricosmetic applications and are gaining ground in markets around the world. They are also a leading producer of high quality, traceable crude porcine heparin and a trusted partner for numerous international pharmaceutical clients.

Randall emphasizes the importance of not only providing a crucial commodity such as food but ensuring the protection of the entire food chain from source to the final product. By enforcing stringent biosecurity standards at their processing facilities, Darling Ingredients assures clients that their food ingredients are fully traceable, and their products and processes are fully compliant with food safety regulations. By processing unconsumed meat co-products into usable ingredients rather than disposing of them in landfills or compost piles, the company's facilities prevent more greenhouse gases from being released into the air rather than what they add to it during operations. By repurposing materials, they also help protect land and groundwater from pathogens that occur during nature's decomposition process. And, by ensuring that their feed ingredients are traceable and safe, they protect the livestock that starts this food cycle in motion. They contribute to innovative healthy food concepts through their natural proteins and other natural dietary supplements.

Another crucial commodity for the growing population is energy, and Darling Ingredients realizes that in today's world consumption of this is much higher, and the need of the hour is the utilization of renewable resources.
Darling Ingredients was the first in the USA to pioneer the commercial production of biodiesel repurposing animal fats, organic residuals or the oil and grease they collect from restaurants. In 2001, they became Canada's first producer of biodiesel from animal fats and cooking oils. In 2013, together with Valero Energy Corporation, they constructed North America's largest facility to convert animal fats, used cooking oils and distiller oils into renewable diesel. Additionally, in Europe, they are leading the way with innovative biofuel and renewable energy solutions.

ENLIGHTENED VISION AND MISSION

Darling Ingredient's unique and innovative offerings stem from their vision of 'Giving Nature a Second Chance.' "We do this by taking in materials that would otherwise be discarded and turning them into sustainable food, feed or fuel ingredients. This is how we commit to sustainability, by respecting the environment, optimizing nutrition and health, and giving back to communities," says Randall.

The company was established in 1982 as Ira C. Darling & Company in Chicago, Illinois, as a partnership between the Swift family meatpacking business of Chicago, Illinois, and the Darling family fertilizer company of Pawtucket, Rhode Island. With roots dating back to the late 19th century, they have evolved from a small rendering company into the world's leading innovative developer and producer of sustainable organic ingredients for a growing population. Over the years, the company has made ingenious strategic decisions of acquisitions and partnerships with energy organizations such as RVO BioPur and Rothsay and companies that make food ingredients such as Vion Ingredient and Tallowmasters to name a few. Their most recent acquisition in January 2020 is the 100 percent ownership of EnviroFlight, a company that develops high quality, sustainable insect-based ingredients for animals and plants.

These key achievements are the reason behind Darling Ingredient's immense success and global growth. As a global leader in the industry and with the most elite companies as clients, the company understands the need for their business practices and individual conduct to be open and honest. They imbibe three core value to uphold the code of conduct which are Integrity, Transparency, and Entrepreneurship. "We have and will always take responsibility for our actions and will ensure that our offerings and processes respect the environment and have a positive impact on the present and future world," concludes Randall.